Do you know that little bear-shaped bottle of golden sweetness sitting in your pantry? It's time to dust it off and put that honey to good use.
Authentic honey is nature's perfect sweetener, and it's ideal for adding a touch of sweetness to so many foods and drinks. Deciding the honey's food group may not be the easiest of tasks, but putting it to good use in the kitchen is a no-brainer.
Whether honey-glazed carrots, honey lime dressing for your fruit salad recipe, or some honey barbecue sauce, honey-infused recipes are endless. You can even make your own honey butter! The best part is that honey is not only great for your health but also excellent for skincare.
Honey's versatility and natural sweetness mean you can use it instead of sugar in many recipes. Sometimes it's only hot honey over some indulgent delicacy or honey syrup to complete a savory meal!
We've taken the time to write out top simple recipes to satisfy your sweet tooth. Below, you'll find recipes for some delicious vegetarian or vegan dishes.
Keep scrolling.
Simple Things To Make With Honey
Some recipes below may not be corporate buffet cuisine, but they will make your mouth water!
Honey Garlic Chicken Wings
To make these delicious wings at home, you need these:
1/2 cup honey
1/3 cup soy sauce or tamari
3 minced garlic cloves
1/2 teaspoon crushed red pepper flakes
Rinse 1-2 pounds of chicken wings
Sliced scallions
Sesame seed
Instructions
Rinse the chicken wings and pat them dry with paper towels.
Mix the honey, soy sauce or tamari, garlic, and red pepper flakes in a large bowl. Add the wings and toss to coat.
Marinate the wings in the fridge for at least 2 hours or overnight. The longer they marinate, the more flavor they'll absorb.
Preheat the oven to 400°F and line a large rimmed baking sheet with foil.
Arrange the wings in a single layer on the prepared baking sheet. Pour the marinade over the top and use your hands to coat the wings evenly.
Bake for 40-50 minutes, turning halfway through, until the wings are cooked, and the marinade is reduced to a sticky glaze.
Garnish the wings with sliced scallions and sesame seeds, and serve with extra napkins – these are messy but worth it!
The sweet and savory flavors of the garlic honey glaze pair perfectly with the crispy baked chicken wings to make a delicious dinner.
Honey Mustard Vinaigrette
For this recipe, you'll need:
1/3 cup raw honey
1/3 cup olive oil or vegetable oil of your choice
2 tablespoons Dijon mustard
2 tablespoons white wine vinegar or rice vinegar
Salt and pepper to taste
Instructions
Combine the honey, mustard, vinegar, salt, and pepper in a jar with a tight-fitting lid. Shake well to combine.
Add the oil and shake again until the dressing is well emulsified.
Taste and adjust the flavors to your liking. For a tangier dressing, add more vinegar. For extra sweetness, add a bit more honey. You can also experiment using different flavored mustards like whole grain or beer mustard.
This versatile vinaigrette pairs well with sturdy greens like romaine, kale, and arugula. It's also delicious on nuts, berries, and goat cheese salads.
The dressing will last up to 1 week refrigerated – shake well before each use.
Honey Lavender Ice Cream
To make honey lavender ice cream, you'll need just a few ingredients:
2 cups heavy cream or whipping cream
3/4 cup sweet honey
1/4 teaspoon dried lavender buds or 1 tablespoon lavender extract
Pinch of salt
Instructions
Heat the cream, honey, lavender, and salt in a saucepan over medium heat, stirring frequently until bubbles form around the pan's edge.
Remove from heat and let steep for 30 minutes. Strain out the lavender buds.
Chill the mixture in the refrigerator for at least 2 hours or overnight.
Freeze the chilled mixture in your ice cream maker according to the manufacturer's instructions. This usually takes 20 to 40 minutes.
Once churned, transfer the ice cream to an airtight container and freeze for at least 2 hours before serving.
This soothing frozen treat can be garnished with honey, fresh or candied lavender buds, lemon zest, or berries. Enjoy!
The floral and honeyed flavors of lavender ice cream are the perfect accompaniment to a warm summer evening.
Honey Roasted Carrots
For this simple yet delicious side dish, you'll need:
1 pound carrots, peeled and cut into 1-inch pieces
2 tablespoons fresh honey
2 tablespoons olive oil
1/2 teaspoon salt
1/4 teaspoon black pepper
Instructions
Preheat the oven to 400°F and line a rimmed baking sheet with parchment paper.
Place the carrot pieces in a large bowl. Add the honey, olive oil, salt, and pepper and toss to coat.
Spread the carrots in an even layer on the prepared baking sheet.
Roast, stirring once halfway through, until the carrots are tender and lightly browned around the edges, about 25 minutes.
Let cool slightly, then serve and enjoy your sweet and savory honey-roasted carrots! The natural sugars in the honey will caramelize as the carrots roast, giving them an irresistible glazed finish.
Honey-Sriracha Glazed Chicken
Honey and sriracha are a match made in heaven. The sweetness of honey perfectly balances the kick of chili garlic sauce.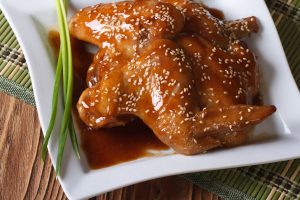 This honey-sriracha glazed chicken is easy to make and packs a flavor punch. You'll need the following:
1/4 cup honey
2 tablespoons sriracha sauce
4 bone-in, skin-on chicken thighs
Instructions
Mix the honey and sriracha sauce. You can add a bit more sriracha if you like it extra spicy. Mix well until thoroughly combined.
Place 4 bone-in, skin-on chicken thighs in a resealable plastic bag. Pour in the honey-sriracha mixture, seal the bag, and turn to coat the chicken. Marinate in the refrigerator for at least 2 hours or up to overnight.
Preheat the oven to 400°F. Line a rimmed baking sheet with foil and place a wire rack on top. Remove chicken from the marinade and arrange skin side up on the rack. Discard the marinade.
Roast until the chicken is cooked and reaches an internal temperature of 165°F, about 40 to 50 minutes. The chicken is done when the juices run clear, and the meat is no longer pink near the bone.
During the last 10 minutes of roasting, brush the chicken with any remaining honey-sriracha glaze from the bag. Continue roasting until the chicken is browned and lacquered.
Let the chicken rest for 5 to 10 minutes, then serve. The spicy-sweet glaze will make your mouth water.
This chicken pairs great with rice to soak up the flavorful sauce and a crisp salad to balance the meal. Enjoy your sweet and spicy treat!
Honey-Yogurt Parfait
A honey-yogurt parfait is a simple, delicious treat perfect for breakfast or dessert. Layering yogurt, granola, and honey creates a sweet medley of flavors and textures.
Plain Greek yogurt
Granola (homemade or store-bought)
Honey
Fresh or frozen fruit of your choice (berries, peaches, mango, etc.)
Instructions
Add a layer of yogurt to the bottom of a glass. Use about 1/2 to 3/4 cup, depending on the size of your glass.
Top with a layer of granola. You'll want enough to cover the yogurt, but don't overdo it. About 1/3 to 1/2 cup should do.
Drizzle 2-3 tablespoons of honey over the granola. Depending on how sweet you want the parfait, you can add more or less honey.
Add a layer of fruit on top of the honey and granola. Use 1/2 to 1 cup of fruit. Berries, peaches, mango, and cherries pair great with yogurt and honey.
Repeat the layers until your glass is full, ending with a layer of yogurt on top.
Garnish your parfait with a mint leaf, extra granola, or a drizzle of honey. Enjoy
Honey Garlic Cauliflower
1 medium-sized cauliflower head cut into florets
3 tablespoons honey
3 tablespoons soy sauce (or tamari for a gluten-free option)
3 cloves garlic, minced
1 tablespoon olive oil
1/4 teaspoon red pepper flakes (optional)
Salt and black pepper to taste
Fresh parsley or green onions, chopped (for garnish)
Instructions
Preheat the oven to 425°F (220°C). Line a baking sheet with parchment paper or lightly grease it to prevent sticking.
Whisk together the honey, soy sauce, minced garlic, olive oil, red pepper flakes (if using), salt, and black pepper in a small bowl. Set the mixture aside.
Place the cauliflower florets in a large mixing bowl. Pour the honey-garlic sauce over the cauliflower and toss gently to coat the florets evenly.
Spread the cauliflower florets in a single layer on the prepared baking sheet. Reserve any remaining sauce in the bowl.
Roast the cauliflower in the oven for 20-25 minutes or until the edges turn golden brown. Flip the florets once halfway through the cooking time to ensure even browning.
While the cauliflower is roasting, transfer the remaining sauce from the bowl to a small saucepan. Heat the sauce over medium-low heat, stirring occasionally, until it thickens slightly. This will be used as a glaze for the roasted cauliflower.
Once the cauliflower is cooked, remove it from the oven. Drizzle the glaze over the roasted cauliflower, or you can toss the cauliflower in the glaze in a separate bowl.
Garnish the honey garlic cauliflower with freshly chopped parsley or green onions for a pop of color and added freshness.
Honey Cake Recipe
2 cups all-purpose flour
1 teaspoon baking powder
1 teaspoon baking soda
1/2 teaspoon salt
1 teaspoon ground cinnamon
1/2 teaspoon ground nutmeg
1/2 cup unsalted butter, softened
1 cup granulated sugar
3 large eggs
1 cup honey or orange blossom honey
1/2 cup buttermilk
1 teaspoon vanilla extract
Instructions
Preheat oven to 350°F (175°C) and prepare a cake pan.
Mix dry ingredients in one bowl, cream butter and sugar in another.
Beat in eggs, then add honey, buttermilk, and vanilla.
Gradually add dry ingredients to wet ingredients, mixing until smooth.
Pour batter into the cake pan and bake for 40-45 minutes.
Serve with ice cream or whipped cream
Bonus
For a quick honey lemonade, do the following:
Mix honey, lemon juice, and water.
Stir well until the honey dissolves.
Serve over ice.
Final Words
`Honey is nature's sweetener, and using it instead of refined sugar is an easy way to add more nutrition to your diet. It boasts several benefits. For instance, a diet containing honey may reduce oxidative stress caused by vaping.
Whether you drizzle it on yogurt, sweeten your tea, or bake it into homemade granola bars, honey can enhance so many foods and beverages.
Try honey next time you're looking for an all-natural sweetener or want to make a homemade gift. Your taste buds will dance with delight!